Calling for an ambulance
Calling for an ambulance FAQs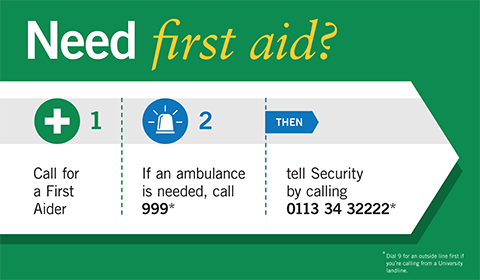 What happens if multiple services (fire, police and ambulance) are needed – for instance a major incident?
If you think multiple services may be needed, call the Emergency Services on 999* and describe the situation. Then call Security (0113 34 32222*).
* call 9 first to get an outside line if you are calling from a University landline.
---
What happens if I am on my own with the casualty?
If you are alone with a casualty, call for a first aider or assistance.

If no assistance is available and you believe that an ambulance is needed, then call the emergency services directly on 999*.
The Yorkshire Ambulance Service (YAS) Emergency Call Handler will go through some questions with you and either:
stay on the line and assist (at this point tell them that you are alone and ask if they can let Security know), or
they will finish the call so you can make the call to Security (0113 34 32222*).
*if calling from a University landline phone, dial 9 first for an outside line.
---
What should I do if I don't have access to a phone at the scene?
First aid training teaches that if you need to leave a casualty for a short time to get help or find a phone, then do this. In serious situations the casualty has more chance of survival with qualified assistance than without it.
---
Why can't Yorkshire Ambulance Service call Security directly for each University call rather than us having to make a second call to Security?
Yorkshire Ambulance Service (YAS) cannot rely on an ambulance crew or their Dispatch Officers calling Security if they are attending incidents at the University. Not all crews have mobile phones and many ambulances do not have telephones fitted. In addition more than one ambulance unit may be sent to a serious incident.
---
Will lots of calls to Security result in calls being missed or phone lines being overloaded?
No - Security can take and make lots of calls at the same time. They manage this through the numbers of officers on duty and the number of phone lines linked to their published contact number (0113 34 32222).
---
Do you have to dial "9" for an outside line if using an internal University landline phone?
Yes - the University internal landline system requires you to dial 9 get an external line.
To dial the emergency services from a University landline phone, call 9-999.
To call Security Services from a University landline phone, call 9-0113 34 32222.
---
Will Security attend the scene if I call them after I've called 999?
Yes - when Security have been told that an emergency call to 999 has been made, a Security Officer will be sent to the scene. Security will then direct ambulance crews to the scene as necessary.
---
Do Security always carry a defibrillator with them?
No, but there are 32 defibrillators in locations across the University estate - see the defibrillator map.
A defibrillator is held in the central Security Office but it will probably be quicker to use one which is located close to the scene.
Anyone can use a defibrillator, as the machine itself gives you step-by-step instructions on how to use it. This useful video by St John Ambulance gives you more details.
---
Why are ambulance response times sometimes so long when the Accident and Emergency (A & E) department at the Leeds General Infirmary (LGI) is so close?
This is because ambulances are sent from a centrally managed base, not from a local hospital. Patients are prioritised based on their medical needs not their location.
---