DSE
Display Screen Equipment (DSE)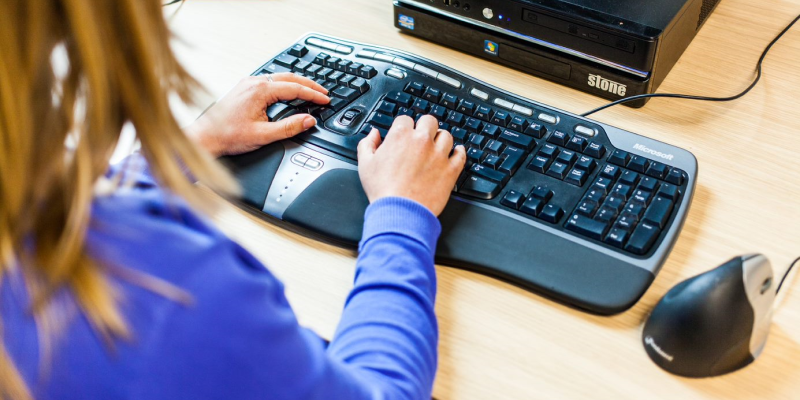 Display Screen Equipment (DSE) means computers or hand-held devices that display information and are provided by the University to be used by staff in connection with work – for instance desktop computers, laptops, touch-screen tills and hand-held devices such as iPads, tablets, mobile phones, etc.
The use of DSE has become a significant part of everyday work-life for most people; however DSE-based work can cause injury/damage to a user's physical and psychological health unless it is managed properly.
COVID-19 update:
Staff who are on campus and need an eye test should follow the Procedures attached under 'Downloads' below, go to a Bayfields optician practice (for locations see the Bayfields website link) and take identification (preferably your staff ID) with you. Bayfields' staff will explain more about the detail at the moment, when you book your appointment.
See more information for staff working from home
Electrical Safety: Generally, all electrical equipment provided by the University must be regularly tested (known as PAT testing) and given a label to show that it is safe to use. During the covid situation, some equipment may run past its current PAT test date and may be difficult to test because of social distancing restrictions, access to campus etc. We have therefore decided to automatically extend the current PAT testing certificate on all electrical equipment provided by the University so long as the user carries out some basic checks to ensure it is safe. The extension will be reviewed in August 2021.
Before switching on electronic equipment, staff should:
Look out for trailing wires and check the plug, the flex and the equipment, looking for splits, frayed or exposed wires, damaged/ cracked plugs/ exposed parts etc. (you don't need to record this).

Look out for trailing wires which could trip people over.

If you find any damage, faults or if you suspect it might be faulty:

Stop using it immediately.
Tell your line manager so they can deal with it.

If you have any concerns about any aspect of the equipment, you should discuss these with your line manager who will help you resolve them wherever possible.
Key points of this protocol
Staff who are DSE users (staff who use computers in connection with work) need to:
complete the three sections of the online DSE training module

adjust their workstation in line with the module's recommendations

follow the attached Procedures to gain the free eye test

report faults, accidents, incidents or diagnosed chronic ill health conditions related to working with DSEs
DSE Assessors are appointed to deal with problems identified by the online module, which staff can't change themselves.
These bullet points are only a brief summary – the Standard sets out what needs to happen across the University. To find out what you need to do, how to use this protocol and what the documents attached below mean to you, see the FAQs.