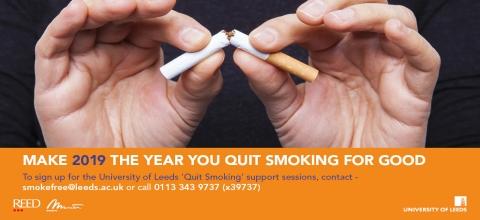 Quit Smoking sessions
Make 2019 the year you quit smoking for good!
Quitting smoking is one of the best things you can do for your health - but many smokers who want to quit aren't sure of the best way to go about it.
Whether you do it for you, your family, your health, your looks or your finances, you can boost your chances of success by getting some support.
Here are a few places you can go to get you started:
Free Quit Smoking support sessions on campus
The University is currently running support sessions with motivational support and nicotine replacement therapy to help you quit smoking. These are free and available on campus separately for staff and for students.
The hour-long sessions include a 'get started' session and 6 one-hour sessions on a rolling programme, covering
Why I should consider stopping?
How this programme can help me quit and limit the damage caused by smoking
Where to get support
How will I feel when I'm quitting?
How to cope with stress and will I gain weight when I quit?
Sessions for staff run on a Tuesday afternoon in the Logik Centre. Sessions for students run on Tuesday early evenings at The Edge sports centre.
Contact smokefree@leeds.ac.uk or call x39737 (0113 343 9737) with your details to find out more, and book yourself onto them.