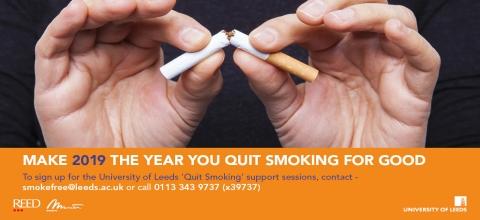 Quit Smoking sessions
Make 2019 the year you quit smoking for good!
Quitting smoking is one of the best things you can do for your health - but many smokers who want to quit aren't sure of the best way to go about it.
Whether you do it for you, your family or your finances, you can boost your chances of success by getting some support.
Staff members and students can sign up now to join the free support sessions on campus with a Health Advisor who can help you with:
Advice and guidance on how to change behaviours to help you succeed
Nicotine Replacement Therapy,
Motivational support.
Links to the smokefree app and 24-hour support and advice on social media
Why not bring along a friend or colleague who'd also like to quit, and do it together?
Contact smokefree@leeds.ac.uk or call x39737 (0113 343 9737) to find out more, now!