Health and Safety Policy
Foreword and Overview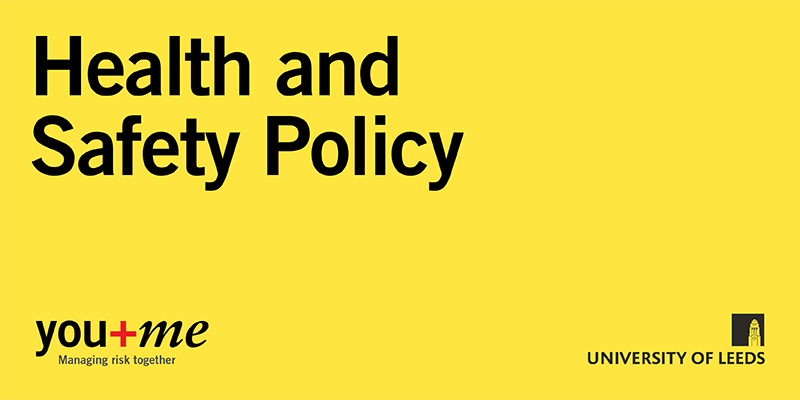 Foreword
The Council and I are absolutely clear that our number one priority and responsibility is to protect the health and safety of the entire University community.
Health and safety is here to support the work we all do. We must work together, be sensitive to each other's concerns and needs, and follow the rules, which are there for our collective safety.
This Policy helps members of staff and students to understand our health and safety responsibilities and what these mean to our work, research, teaching and study. Staff in particular are encouraged to familiarise themselves with the Policy and to discuss it within their teams.
Together we can build on our strong foundations and work in partnership with the trade unions to deliver positive change through effective planning and continual improvement. We will take a sensible risk management approach to working together and will find creative solutions for our learning, teaching, research, work and innovation.
Professor Simone Buitendiijk, Vice-Chancellor
Overview
The University is determined to support a culture that recognises that (almost!) anything is possible when it is managed properly.
No situation is risk-free, so every member of the University community has to understand their responsibilities and apply these to all University activities wherever they take place.
These responsibilities increase through the levels of the University line management structure.
Specific health and safety duties are laid upon the University by legislation, civil law and our own expectations. We formally translate these into the key elements below to explain what is expected:
Policy Statement which sets out the University's commitment to health and safety

Itemised responsibilities aligned to roles in the University line management system. The responsibilities themselves cannot be delegated; however, the management for carrying out these responsibilities can be delegated to other staff

Documented Standards which set out what must be achieved by all faculties and services for each health and safety topic. Sometimes a Standard specifies a Procedure, Table, Form or level of training – if this is the case, it must be followed.
Each Standard is produced as part of the Health and Safety Protocols by specialist teams within Wellbeing Safety and Health, as authorised by Council. The Standards follow a comprehensive consultation process (including participation) and the approved versions can be found at the Health and Safety webpages or the Occupational Health webpages.
This Policy and the Health and Safety Protocols reflect the Universities Safety and Health Association (USHA) document 'Leadership and Management of Health and Safety in Higher Education Institutions'.