Health and Safety Policy
Health And Safety Policy Statement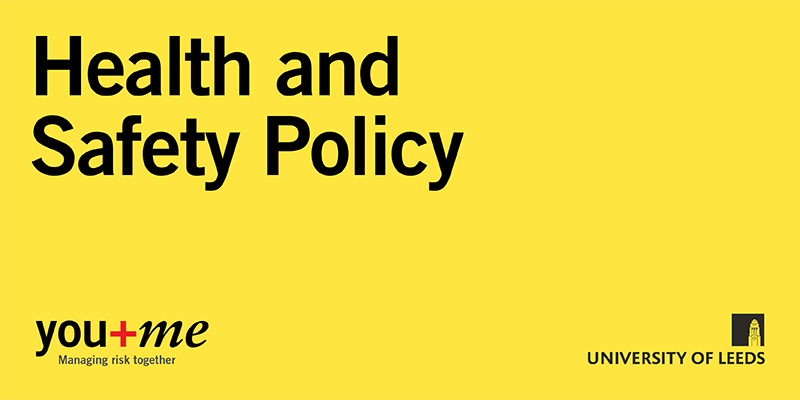 Health And Safety Policy Statement
The Council of the University believes that the health and safety of its staff, students and visitors is one of its highest priorities. The University commits itself to the highest standards of health and safety through continual improvement and the control of risk, whilst ensuring the continued delivery of wider engagement with national and international partners to deliver world class education and research.
To achieve this, the University will ensure effective management of risk by establishing, implementing, maintaining and continuously improving a quality-based occupational health and safety management system and by allocating the resources necessary to attain these.
It will also define clear management systems and ensure the involvement of all its staff, by consultation (including participation) with their representative organisations, when considering the actions necessary to implement this Policy.
The principal aims of this Policy are to ensure:
that risk management systems are in place to prevent work-related injury, accidents and ill health, providing safe and healthy working conditions, plant, premises and equipment

it provides a framework for setting occupational health and safety (OH&S) objectives, as part of the planning process for University activities

compliance with health and safety legal requirements as a minimum and other requirements, where relevant

continual improvement of the OH&S management system

that hazards are eliminated, where possible, and OH&S risks reduced

that effective communication and consultation systems (including participation) for health and safety are in place

that systems are in place to respond to emergency situations and major incidents

that risk management systems and processes are in place and opportunities are identified to enhance OH&S performance

that health and safety responsibilities are defined for all roles at the University

that the requirements of this Policy and the associated Protocols are implemented

that systems are in place to monitor health and safety by the University in partnership with the Trade Unions

that a University Health and Safety Committee meets regularly

the development of a health and safety management system and processes designed to achieve accreditation against internationally recognised standards

that an annual review of the effectiveness and suitability of the OH&S system is carried out.