Health and Safety Policy
Introduction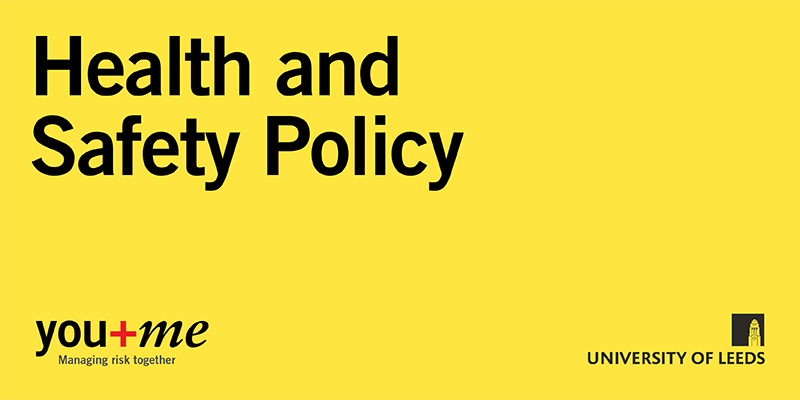 Introduction
Welcome to the Health and Safety Policy
The Health and Safety Policy is part of the University's commitment to promoting a positive health and safety culture and ensuring we all contribute to the delivery of excellent health and safety.
On these pages you can find:
The Foreword by our Vice-Chancellor, Professor Simone Buitendijk which underlines the importance of health and safety at the University. 
The Health and Safety Policy Statement and other information about how health and safety is managed within the Appendices.
Your health and safety responsibilities listed by role in the University line management structure. You may hold more than one role at a time, and if you do, you take on the extra responsibilities for each additional role.
Guidance leaflets with suggested actions you and others should take to fulfil your responsibilities.
Key points you need to know, include:
Health and safety is everyone's responsibility.
To help you understand how to put this into practice we've produced leaflets based on your role/s in the University line management structure: All Staff, Academic Leader/ Line Manager/ Academic Tutor, Heads of School/Service and UEG members.
If you hold more than one role at a time, you take on the additional responsibilities listed for each extra role.
There is a renewed emphasis on our commitment to continuous improvement. 
Downloads
At the bottom of this page under 'Health and Safety Policy Downloads' you can find downloadable versions of:
The Health and Safety Policy.
Guidance leaflets for All Staff, Academic Leaders/ Line Managers/ Academic Tutors, Heads of School/ Service and Members of UEG.
Brief presentation which you can use to explain the updated Health and Safety Policy to colleagues.
Where possible, please use the online or downloadable versions of the Policy. However if you would still like printed versions of the Policy or leaflets, you can request them by completing this Health and Safety Policy and leaflets – request form for hard copies.
If you have any questions about the Health and Safety Policy please ask your health and safety team or contact safety@leeds.ac.uk.