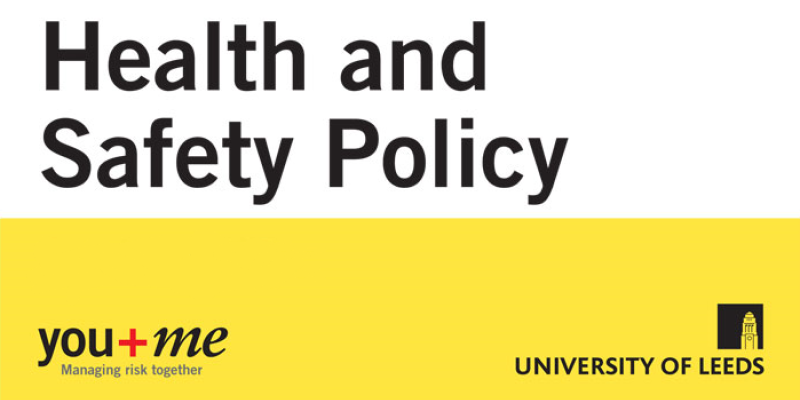 You can find the current University of Leeds Health and Safety Policy by clicking on the 'Downloads' link at the bottom of this webpage.
The Health and Safety Policy is the University's written commitment to keeping us all safe and well.
See the full Health and Safety Policy attached at the bottom of this page, along with leaflets which offer some actions you should carry out to help meet your responsibilities as a member of staff, an Academic Leader (a newly defined role)/ Line Manager/ Academic Tutor, a Head of School/ Service and/ or a UEG member.
Watch this video (2.5 minutes) to help you understand some of the key points you need to know about the Health and Safety Policy.
Key points of the Policy are:
Health and safety is everyone's responsibility – this means that we all need to fulfil our responsibilities and take care of ourselves and each other, as part of our everyday activities.

Anything (well, almost anything!) is possible if it's managed properly.

The health and safety responsibilities you hold, reflect four levels within the University line management structure: all staff, Academic Leader/ Line Manager/ Academic Tutor, Heads of School/ Service and UEG members.

You may hold more than one role at any given time, and if you do, you take on the extra responsibilities for each additional role.
If you would like printed versions of any of the leaflets, or any further support, speak to your Health and Safety Manager or contact safety@leeds.ac.uk