New Release
Wednesday, 27th February 2019

Publication release- To Be Met As A Person At Work: The Effect of Early Attachment Experiences on Work Relationships
Nicola Neath, Staff Counsellor with the Staff Counselling and Psychological Support Service (SCPSS) has recently had new work published.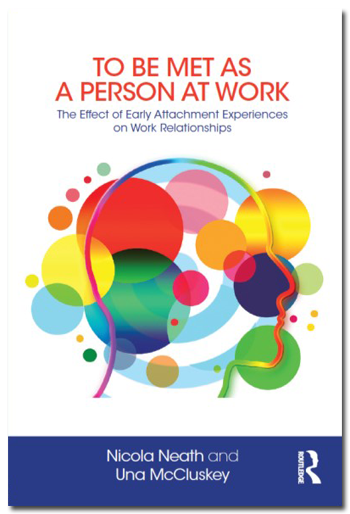 Nicola, along with fellow academic Una McCluskey wrote the book 'To be met as a person at work: the effect of early attachment experiences on work relationships' (published by Routledge) following the SCPSS model to improve our understanding and experience of what we both need to give to, and get from professional relationships at work.
The book describes how our own needs and those of others can manifest themselves in our working patterns and relationships, as well as considering the experiences of the colleagues who undertook the pilot. Nicola took the model of Attachment Theory being applied at the University and translated it into a unique pilot course for managers and leaders to use for their own wellbeing, as well as to gain an insight into leadership and management dynamics.
Review from a University HR staff member of Nicolas' book - 'To be met as a person at work: the effect of early attachment experiences on work relationships' :
"I would recommend this book to anyone with an interest in organisational culture, especially those who wish to use theory to inform their practice. As an HR professional, I found that it has helped me to structure my thinking about how best to incorporate an understanding of emotion into my casework. I have used a number of the ideas to help me to work through complex employment situations with staff and their managers. For example, I have used these ideas to help managers and staff recognise the way in which fear can heavily influence behaviours in the workplace, in order to manage such situations more effectively, which can be a scary thing in itself for staff, managers and HR professionals alike. I think that using the ideas that Nicola Neath expresses in this text will help us to practice a more compassionate form of HR and management, which will benefit organisations and employees alike."
Nicola said:
"Our passion at SCPSS is to work with staff to develop understanding and skills as well as balance our emotional and relational needs with work commitments and challenges. 'To be met as a person at work' describes a structured group process for exploring how our emotions and relational needs play out in the workplace. I was delighted to use the book to honour the journey that the participating staff and I took, and the impact it had. I'd also like to add my appreciation for all those colleagues whose support and encouragement made the process and the book possible."
To purchase the book contact Nicola Neath (link to http://wsh.leeds.ac.uk/info/134/staff_counselling_and_psychological_support/101/our_team ) directly or go to :
Routledge
Amazon
https://www.routledge.com/To-Be-Met-as-a-Person-at-Work-The-Effect-of-Early-Attachment-Experiences/Neath-McCluskey/p/book/9781782205524
https://www.amazon.co.uk/Met-Person-Work-Experiences-Relationships/dp/1782205527

RSS version