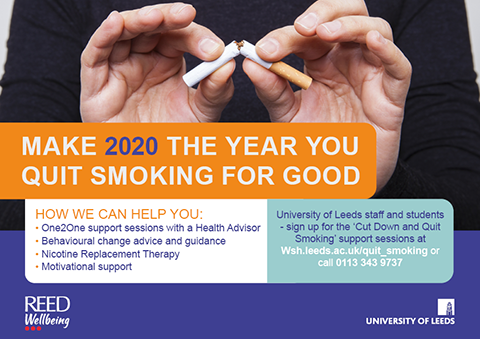 Free 'quit or cut down' support sessions for staff on campus
If you're a staff member who would like to quit or cut down on smoking, why not sign up to the free on campus programme? Take advantage of six 15-minute one2one sessions with a professional Quit Smoking Coach who can give you personal motivational support, advice, guidance and nicotine replacement therapy.
These free sessions are available separately to staff and students and include:
Getting started
Why I should consider stopping or cutting down?
How this programme can help me quit or cut down - and so limit the damage caused by smoking
Where to get support.
How will I feel when I'm quitting or cutting down?
How to cope with stress and will I gain weight when I quit or cut down?
To book or find out more, fill out the Smokefree Campus form or call x39737 (0113 343 9737) with your details.