The Vice-Chancellor's Awards for Health and Safety – Focus on the Winners 2017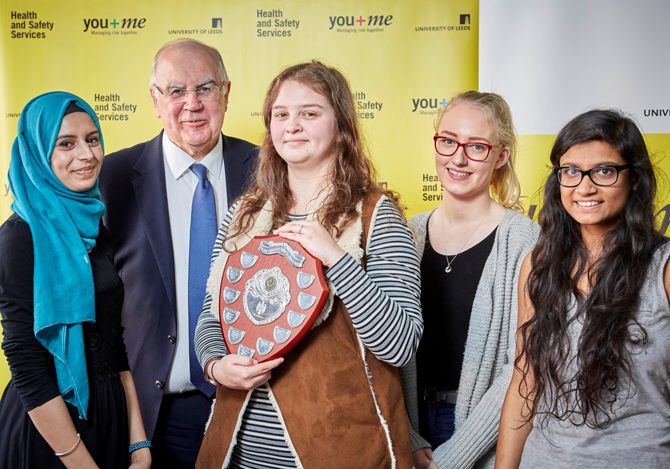 The Vice-Chancellor's Awards for Heath and Safety 2017
Congratulations to the overall winner of the Vice-Chancellor's Awards for Health and Safety 2017, personally selected by the Vice-Chancellor as the most inspiring entry of 2017:
The Student Chemistry SHE Committee - Holly Foster, Nisha Pokar, Namrah Shahid, Stephanie Foster (plus Rebecca Lane, Rebecca Rose: graduated), School of Chemistry, MAPS
A group of 4th year MChem students were discussing their experiences on industrial placement, and specifically the effective health and safety cultures at the companies. They believed that this was a result of collective ownership of health and safety but felt that in teaching laboratories, students either did not feel empowered or did not wish to take ownership.
They set up their own SHE (Safety, Health and Environment) committee and forum, recruiting 25 students to discuss issues and deliver a series of activities to encourage good practice. In the first year, this led to a near 50% reduction in incidents associated with chemical spills/ contact.
They convened regular meetings to agree standards of behaviour/ practice, publicised these, created a traffic light card system to highlight and reward good practice/ behaviour, made all material available on the VLE and ensured the longevity of the committee by arranging for it to be chaired and organised by other returning industrial placement students.
Sir Alan Langlands, Vice-Chancellor said:
"Students are a driving force for innovation within the University and this is demonstrated by the initiative of the Chemistry Student Safety, Health and Environment Committee. By drawing on their experiences from their year in industry placements, the Committee's members have shown great professionalism and ownership of the issue of health and safety in relation to their studies."
Paul Veevers, Director of Health and Safety Services said:
"It's brilliant to see a team of students winning the VC Award as in the past,we have attracted fewer nominations from students. The Chemistry SHE Committee have demonstrated the real strength and commitment to health and safety that exists amongst the student community, and how staff and students can collaborate to ensure the University continues to build a successful health and safety culture."
Read here about about the Awards .
Pages in this document
Related downloads
VC Awards For Health & Safety
VC Awards 2019 Poster

(PDF)
VC Awards 2019 briefing note

(DOCX)
VC Awards 2019 Application Form

(DOCX)