Frequently Asked Questions
Click a question to reveal the answer.
A suite of documents which sit alongside the University Health and Safety Policy and provide detailed information on what you need to do to meet both legal and University requirements for different health and safety topics (e.g. fire safety, biological substances, fieldwork etc).
1. Standard – specifies what the University expects to be in place for Fire Safety. Each bulletpoint is a 'must happen' and everyone needs to play their part in ensuring these requirements are met. Heads of School/ Service will set up systems and appoint staff into specific roles to make sure they happen; everyone else needs to carry out tasks and instructions to fulfil them.
2. List of prohibited items (fire safety) on campus - sets out the items which are prohibited on campus by this protocol. As this is attached to the Standard they MUST not be used.
3. Training Matrix – In order to support people and ensure that they are provided with the key training and health and safety competency to fulfils their roles, most Standards list a connected Training Matrix which identifies the minimum training / level of competency required for that topic. As this matrix forms part of the Standard it must be achieved.
4. Head of School / Service Guidance – provides one way of implementing a system that will achieve the requirements of the Standard. The HoSS (with your Health and Safety Manager) will decide if this (or another system) suits the needs of each school/ service most effectively. So long as the Standard is achieved there is usually flexibility in the way that it can be achieved. However there are occasions where a more prescriptive approach is required and these are detailed in the Standard in the form of a Procedure or Tables; as they are listed in the Standard, they are also a 'must happen'. For this protocol on Fire safety, the approved forms listed in the Standard must be used, and the List of Prohibited Items must be followed..
5. Fire Precautions checklist – University-approved form which must be used.
6. Building fire risk assessment – University approved form which must be used.
7. Operational fire risk assessment – University approved form which must be used.
8. DSEAR fire risk assessment - University approved form which must be used.
9. Building fire risk assessment remedial action form - University approved form which must be used.
10. PEEP Questionnaire and form - University approved form which must be used.
11. Information for fire wardens on what is included in the training for fire marshals – information to support fire wardens.
1. Head of School/ Service – discuss the protocol (particularly the Standard, HoSS Guidance, Prohibited items list and Training matrix) with your Health and Safety Manager and/ or Fire Safety Manager to make sure you have a system in place. Appoint people to fulfil any identified roles and provide them with training in line with the Training matrix.
2. All other staff and students - make yourself aware of the arrangements / instructions/ processes that have been put in place in your school / service - ask your Health and Safety Manager or Coordinator, or your local Fire Warden if you need more information or support.
No it is not. Naked flames including candles are one of the very few items which the University has chosen to prohibit as part of its Fire Safety protocol (www.leeds.ac.uk/safety). Naked flames of any kind are not appropriate for student rooms, offices or many other University environments as they pose a significant risk. The only exceptions can be found under the FAQ "Where is it acceptable to have naked flames?"
Naked flames are acceptable in laboratories, some kitchens and where religious activities require their use – in these cases they must be covered by an activity risk assessment. Details may also need to be included in the fire risk assessments.
Imagine the fire alarm has actuated and in the evacuation process a disabled visitor is unsure of how to evacuate, what would you do? This is the question we want answered by having a pre- plan of how disabled visitors would be evacuated from your area. It will not apply to staff and students in your area as they should have a Personal Emergency Evacuation Plan (PEEP) already prepared.
Yes it is a requirement of the Fire Safety Order that at least one fire drill is carried out every year. We have an agreement with West Yorkshire Fire and Rescue Service that if a building has more than one false alarm activation in the year and providing the evacuation was successful then this can be recorded as a fire drill. You must keep the Operational Fire Risk Assessment up to date with the date of the last fire drill/evacuation to ensure this policy is adhered to.
No the use of block adaptors is not acceptable within University premises, and these are also included on the List of prohibited articles. There are no safeguards with these type of adaptors and a major problem is that it is very easy to overload a socket. A fused four-way adaptor is recommended instead, but remember that the socket has a 13 amp rating so the total fuse rating of any plugs in use in an adaptor should not exceed 13 amps.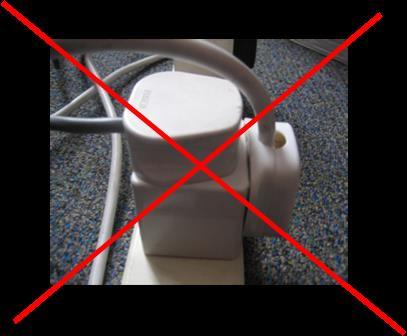 If additional heating is required then the most suitable are the oil filled heaters. Heaters with an open bar heating element or any accessibility to the heating elements cannot be used – they are also included on the prohibited list of articles (fire safety). Normal fan heaters can be used with care. The user should be aware of the problems of radiated heat from fan heaters. As with all electrical equipment heaters should be PA Tested annually. When brought into use after storage they should be inspected to ensure they are in good working condition. Heaters should be unplugged at the end of each day.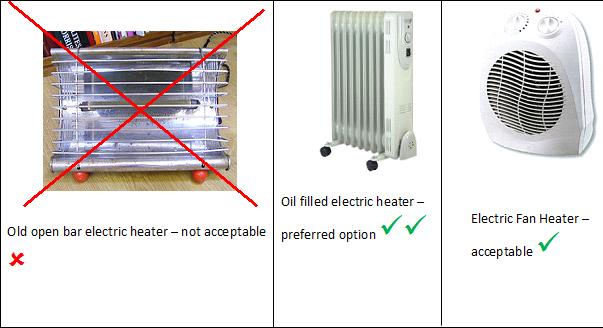 If the Fire Alarm sounds, you should guide students (and visitors) via the nearest fire exit to the appropriate assembly point and report any issues that may arise to the Fire Wardens or University Fire Safety Managers.